Maker Studio AK0000510M Arduino Uno R3 Learning Advanced Kit - Multicolored
Hey guys,
Is it too late to learn coding and play with Arduino?
After, playing with my package the whole day. It's definitely still worthwhile to learn. Especially, if you have never done any of this before!
I admit, I'm a little late as Arduino have been around for couple of years now. The good news is, there are tons of info and projects you can learn online!
To get you started, you might want to get Arduino Official Starter Kit which includes all the parts you need to immediately get going.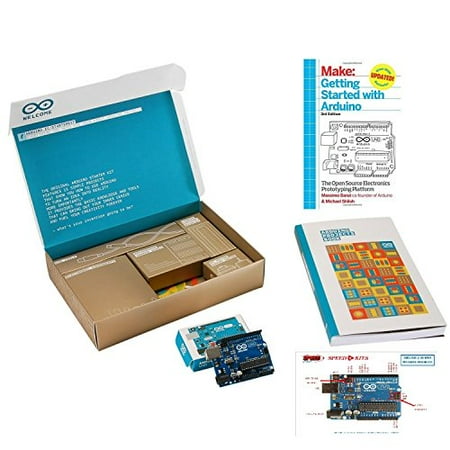 The Official Arduino Starter Kit Deluxe Bundle with Make: Getting Started with Arduino: The Open Source Electronics Prototyping Platform 3rd Edition Book
It can actually be frustrating sometime, but you'll be all excited once you manage to make it works. Children should be encourage to learn about coding and let them apply it in the physical world. Of course, it should also be fun.
Let them be creative in thinking of projects that they can use at home.
Arduino have make it more accessible for children to learn coding and programming. I remember, playing around with computers when I was in school. But, it wasn't really fun and interesting.
I did finished my 2 years of studying MVM (motor vehicle mechanic) at ITE (institute of technical education). But, I didn't pursue further studies after my NS (national service). Even then, I was quite bored. I was actually 'forced' to go into technical class by my teacher.
She thought, as a guy, I should be learning technical stuff. Which is kinda actually true and a bit irony that only now, I'm beginning to be interested in all these stuff. I guess, the technology have actually improved and wasn't as boring as in the old days!
Maker Studio AK0000510M Arduino Uno R3 Learning Advanced Kit - Multicolored
I think, that's also the reason why, everyone are interested in learning it now. More friendly and easier user interface have make it more conducive to learning. Even for adults!
Starter Learning Sensor Module Kit with Arduino Mega2560 for Mega260 / Leonardo
Take the opportunity now to let your children learn and you can learn and have fun too, while you're at it. It's never too late to learn!
Don't forget to watch my unboxing video!
Click here
to watch my Arduino Starter kit Unboxing!
Enjoy!
P.S.
Maker Studio AK0000510M Arduino Uno R3 Learning Advanced Kit - Multicolored